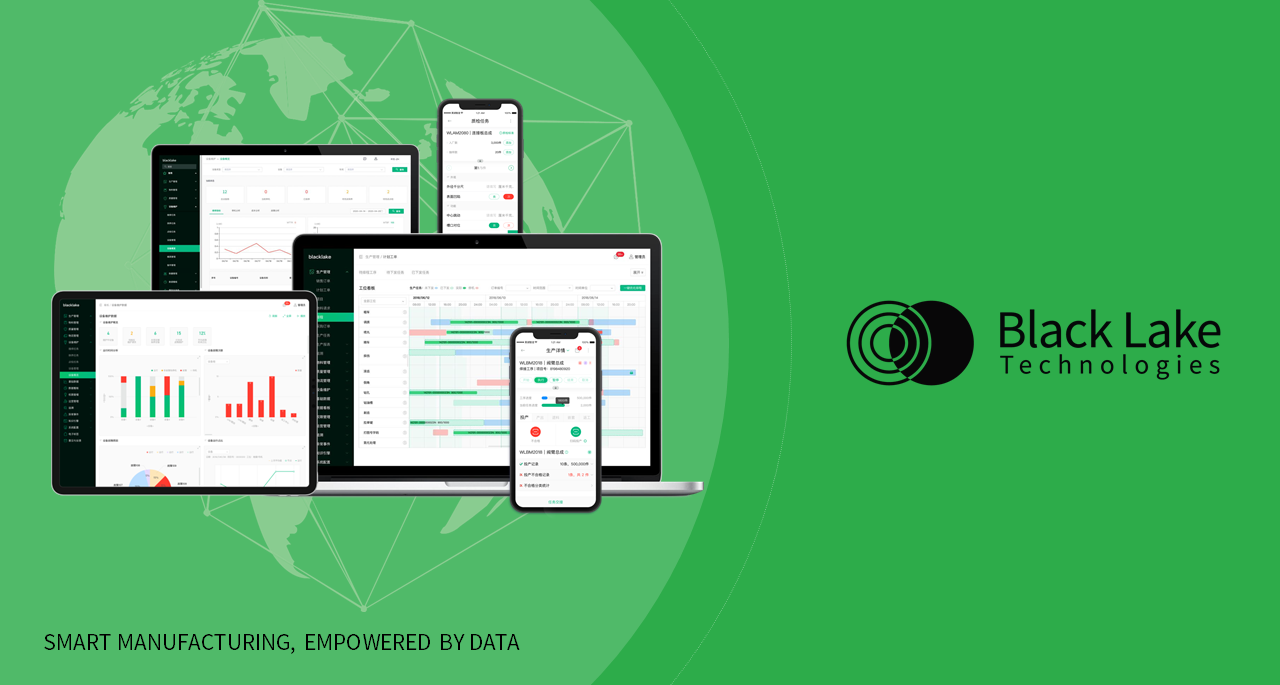 Shanghai, China – Feb 22, 2021 – China's leading industrial SaaS solution provider Black Lake Technologies ("Black Lake") today announced its Series C funding close to $77 million. The round is led by Temasek, joined by Huaxing Growth Capital, Lightspeed China Partners, and all existing investors including GSR Ventures, BAI Capital, GGV Capital, and ZhenFund.
The funding will be deployed to accelerate Black Lake's expansion in Greater China and Asia Pacific while improving product-market-fit and openness of its platform to empower clients, partners and other developers in its ecosystem.
95% of factories in China and Southeast Asia have never installed any form of digital tools to manage shopfloor activities. Black Lake offers these under-served manufacturers a quick-to-deploy solution to take the first step of digital transformation. Leveraging on "cloud-native" architecture and other frameworks from consumer apps, Black Lake has significantly shortened the deployment process (4-6 weeks), largely reduced upfront IT cost (1/10 vs on-premise software), and maintained a timely upgrade schedule (bi-weekly version roll-out).
Founded in 2016, Black Lake is a cloud-based, IoT-enabled collaboration SaaS that helps manufacturers to digitally transform shopfloor activities and facilitate real-time collaboration. Its smart collaboration platform empowers factory staff (from managers to line workers) to collaborate digitally, monitor data, extract insights, and make data-driven decisions. In 2020, the revenue growth of Black Lake exceeded 300% with a dollar retention rate reaching 150%.
Black Lake's smart collaboration platform streamlines production, warehouse management, logistics, quality control, and equipment maintenance through its "Data Connector", "Digital Collaboration", "Manufacturing Intelligence", and "Smart Decision" modules. The platform runs on both smart tablets and PC-based web browsers, which integrates seamlessly with production facilities and equipment, enabling the "last mile" data collection from line workers, machines, robots and IoT sensors. The comprehensive collection of data will be distributed to corresponding users to improve their collaboration efficiency.
Black Lake's team is composed of industry veterans from industrial and tech giants in China, combining sector know-how and decades of experience. In the past four years, the team has served nearly 2,000 customers, including the world's leading manufacturers and their suppliers, i.e. China Resources Group, SINOPEC, Xiaomi, Nongfu Spring, etc. These manufacturers cover a wide range of industrial sectors, such as pharmaceuticals, F&B, chemicals, plastics, aerospace, machinery, etc.,
Ecosystem partners of Black Lake, such as Honeywell, Schneider, SAP, Huawei, Alibaba, Tencent, Microsoft, McKinsey, PwC, Accenture, range from automation, software, cloud computing, to management consulting. Black Lake embraces in-depth partnership with these industry leaders, providing turnkey solutions to industrial customers.
"We believe in the power of openness," said Yuxiang Zhou, the founder and CEO of Black Lake,  "with the fresh funding, Black Lake is dedicating significant resources to enabling profound innovation, and extending our digital capability to empower our ecosystem partners to jointly accelerate the digital transformation of the manufacturing sector in China and the Asia Pacific region."
Contact
Website: www.blacklake.cn 
LinkedIn:https: www.linkedin.com/company/black-lake-technologies
Business/Media Contact: Yiyi Liu ( liuyiyi@blacklake.cn)